Jurassic World: Dominion Dominates Fandom Wikis - The Loop
Play Sound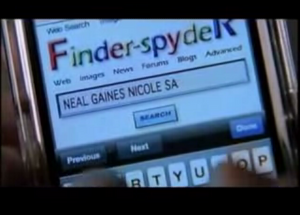 Finder-Spyder is the Internet search engine Dan Vasser uses in the PILOT episode "A Love for a Lifetime" to look up Neil Gaines, in "Game Three" to look up the details of the attorney Alan Pratt aswell for Melissa Waters' death in "The Year of the Rabbit". He later uses it to find information on Dylan McCleen in "The Legend of Dylan McCleen".
When he's in the present, Dan can access Finder-Spyder on his iPhone, but in the 1990s or earlier in the past, Dan obviously cannot access this Internet-based service because it was before either the Internet or the search engine existed.
On Journeyman, the name "Finder-Spyder" is an amalgam for the Google and Web Crawler online search engines. Some have speculated that its name also alludes to the Lexis-Nexis search service, which would be a more useful and detailed service for a reporter to be using.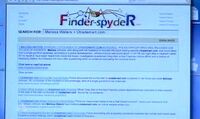 The Google name is never used in the program, but the Finder-Spyder's logo mimics the colors and form of the Google logo.
FinderSpyder is a popular stand-in recently for real search engines. It has appeared in episode eight of Moonlight (though with a different logo), in the pilot episode of Prison Break [1] as well as season three episode 10 and season four episode 5, also in episodes of CSI ("Time of Your Death" May 4, 2006) and in at least one episode of Hidden Palms ("Party Hardy" June 13, 2007) and at least one episode of Without a Trace ("Baggage" October 25, 2007). Has also featured in the series Dexter and "Breaking Bad".
Also appears on "Touch" ("Eye to Eye", Mar. 1, 2013)