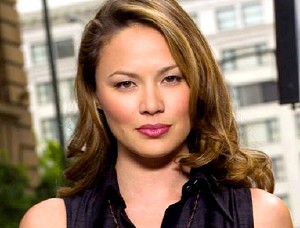 Moon Bloodgood plays Livia Beale on Journeyman.
Biography
Korinna Moon Bloodgood, better known by her shorter name, Moon Bloodgood, born on 20th September, 1975, is an American actress and model. She was born in Anaheim (California) to an American father of Dutch and Irish descent and a South Korean mother. Her father has met her mother while he was stationed in Korea. She is engaged to Eric Belfour (24th April, 2005), an actor and singer. She was ranked as #99 in Maxim magazine Hot 100 of 2005 list, and was later ranked #53 in 2006.[4] In 2007 she ranked #40.
She has starred in films including in Eight Below and Pathfinder, has also appeared alongside Taye Diggs in ABC's Day Break in which she portrayed Rita Shelten, the girlfriend of a detective. The detective is "framed for murder and arrested in the span of a day but continually finds himself reliving that same day"[1].
Filmography
What Just Happened? (2008) (post-production)
Journeyman (2007)
2007 AZN Asian Excellence Awards (2007) (TV)
Day Break (2006-2007)
Pathfinder (2007)
Eight Below (2006)
Moonlight Serenade (2006)
A Lot Like Love (2005)
Monk (2005)
North Shore (2004)
Win a Date with Tad Hamilton! (2004)
Hollywood Division (2004) (TV)
CSI: Crime Scene Investigation (2003)
Just Shoot Me! (2002)
Nuclear Strike (1997) (VG)
External links
References