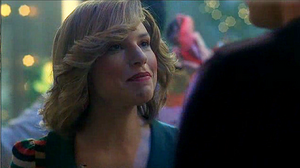 Nancy Stokes is a respected reporter for the San Francisco Register who is featured in "Home By Another Way".
Nancy was a finalist for the Pulitzer Prize, and won the Overseas Press Club Award.
But that doesn't stop the rumors that she somehow got special treatment when she got the job of reporter after starting out as a self-described "copy girl" in the late 1970s.
On Christmas Eve, 2007, rumors of massive cutbacks at the paper prompt two employees to speculate that Nancy will never be fired, and they repeat rumors that she "got her job on her knees." A legend around the paper is that she was engaged in an act with publisher Merritt Ombacher when he died on Dec. 24, 1979 at 10 p.m.
When traveling, Dan meets Nancy on Christmas Eve, 1979 and discovers that she was out of the building when Ombacher died, and that instead, his son Dennis sat by and watched his father die in his office.
In 2007, Dan convinces Nancy to confront Ombacher's son, who now runs the paper, with this information. Nancy reveals that Dennis told her all about his actions that night, and bought her off with a job as a reporter. Ombacher relents and announces that there won't be any cutbacks.
Nancy Stokes is played by Alyson Reed in 2007 and Eryn Joslyn in 1979.